Since some time the good people at NlNet have been sponsoring Collabora to add multi-party audio/video calling to XMPP and do an implementation of this in Telepathy. This project is otherwise known as Muji.
This work has resulted in:
an experimental XMPP extension called Muji
a new and more modern telepathy API for doing calls (currently still in draft), which allows multi-party calls as well as adding the possibility to support call forking (ringing multiple remote devices, call goes to the one that's picked up first).
An implementation of both of these in telepathy-gabble
A small telepathy client for testing and demo purposes.
To proof it actually works, a nice screenshot of the demo client in a 4-way call: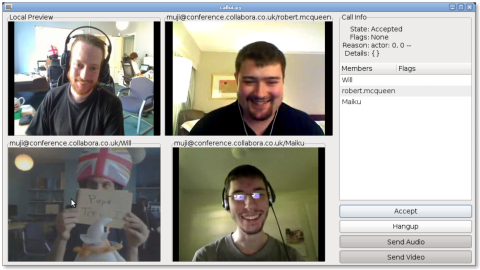 The screenshot is featuring myself in Collabora's UK office (top-left), Robert McQueen from a hotelroom in Taipei (top-right), Will Thompson and Magical trevor also from the Collabora UK office (bottom-left) and Mike Ruprecht from somewhere in Missouri. So we were quite spread out over our little planet. Both audio and video quality was quite good, even though the network in robs hotel was a bit flaky from time to time.
In case you want to try it out have a look at the MujiDemoClient page.